London Canal Museum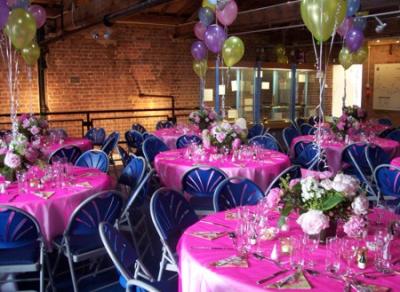 In a quiet central London street only 5 minutes' walk from King's Cross station, this beautiful Victorian building has character in abundance. Originally an ice warehouse for imported natural ice, the surroundings of colourful canal exhibits, traditional brickwork and timber roof appeal to all age groups.

There are two floors. The ground floor is idea for receiving guests with a welcome drink, with use of the attractive canalside area. The first floor has a larger clear space and is suitable for eating and dancing. Capacity is 200 for unseated functions, or 120 seated at tables. All catering is external and clients have a free choice of caterer. Caterers normally prepare food in their own kitchens, using our kitchen for final serving. There are modern ladies and gents and disabled persons' toilets, and excellent access for disabled guests.

The museum is available from 1630 on Saturdays with some preparations possible in the afternoon. There is usually a champagne reception from about 1700 followed by a meal around 1800, and dancing can continue as late as 0100. Arriving by canal boat adds a wonderful romantic dimension to the day, at our own mooring right by the door. Special lighting can be arranged. Our charges are reasonable, and with our long experience we'll help you plan a perfect event!
Website | Email | Request a Brochure