Hazel Gap Barn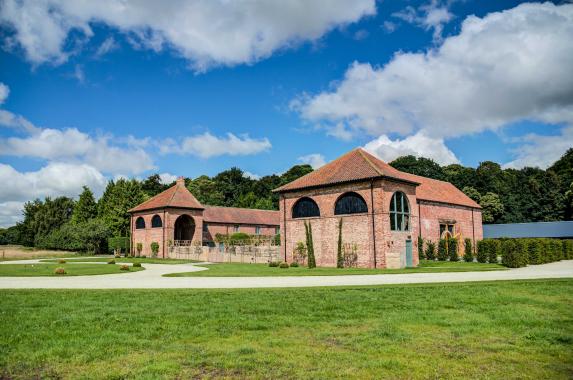 After the success of Cripps Barn, Stone Barn, Shustoke Farm Barns and Healey Barn, the same team are delighted to have found Hazel Gap Barn, an absolute gem of a building on the extraordinary Welbeck Estate in Nottinghamshire.

Hazel Gap Barn is set on its own in lovely countryside some distance away from the well-visited Welbeck Village.

Two red-brick barn buildings stand either side of an enclosed farmyard which has been transformed into a stunning courtyard with a pretty sandstone fountain, trees and elegant wooden benches, perfect for hosting post-ceremony drinks. At night, this is an enchanting spot with dramatic flares, warming fire pits and romantic lighting.

The barn is fronted with two unusual, magnificent towers, with arched entrances that provide a dramatic view to approaching guests. Within the old farm walls lies our charming courtyard and the light and spacious Oak Room links the buildings at the back of the property, offering lovely views across the lawn and into the woods.

The barn boasts traditional oak timbers and arches, while a roaring fireplace, fairy lights and a giant candelabra create the perfect atmosphere for an intimate ceremony. After dinner, this room is transformed into a spectacular dance floor.

The old farmhouse barn has been converted into impressive professional kitchens, housing our vast, hand-made rotisserie. This combined with our impressive outdoor BBQ means your guests can enjoy the drama of their food being prepared.
Website | Email | Request a Brochure