Vintage Wedding Style
Published date: 3rd April 2019 | Author: Hollie Bond
---
The big problem with vintage wedding style is what to exclude rather than what to include. Defining what 'vintage' actually means is a toughie, and there are no nice neat lines dividing in from out. There are plenty of crossovers too, say with the Bohemian wedding thing we explore elsewhere, and with rustic chic.
A lazy way of defining vintage, but useful, is to say it's anything that isn't contemporary. Before we have people thinking along the lines of Tudor or medieval or what have you – please not Bo Peep – for us vintage only goes back to say the Twenties, maybe at a pinch the Edwardian era. But don't think that last year's models fit the bill – they're just out of date not vintage. So in historical terms maybe we can stretch from the 1980s back to about 1910.
Your vintage wedding is not going to be marked as a project by a history professor (is it?), so a little blurring of the decades harms nobody, but the groom in a 1980's New Romantic shirt and the bride in a 1920s Dior dress would be messy and anachronistic, so try to keep things coherent.
For those without a bottomless budget vintage can – helpfully – mean style on a shoestring. Why not re-use a family heirloom dress? Or pick one up from a specialist outlet be that charity shop or vintage clothing store or website.
Look at pictures of vintage-styled weddings and you'll notice that every other bride has a head-band, a neat little head-covering, or even a tiny tiara. And almost none wears the full meringue dress – vintage here tends to mean figure-hugging or at the very least clean lines, a look that cries out for the smallest bouquet, complemented by discreet jewellery. Vintage here more than anything means understated.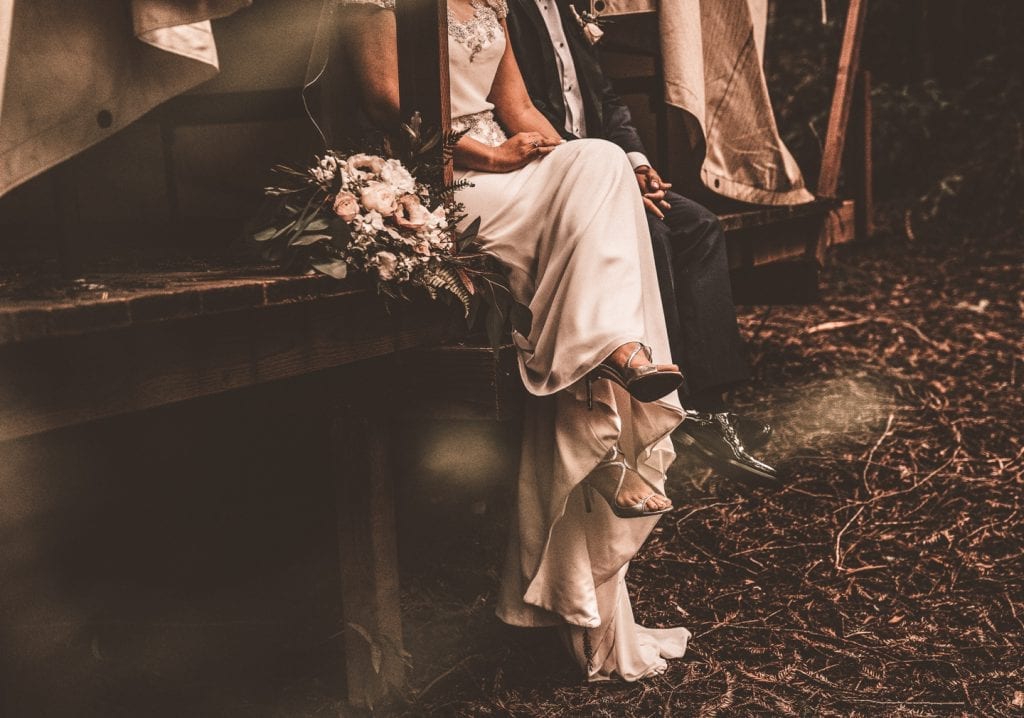 As for cars, sure a 50-year-old Rolls or two can be hired, but if you have a contact with a (serviceable) car that dates back a few decades rope them in for the day.
For a venue to fit the vintage theme check out the castles and great houses on this site, though plenty of others are equally suitable – everybody loves art deco, likewise country pubs and coaching inns. But vintage does give great scope for DIY touches – table decor made with old bottles and odds and ends of colourful pottery for example – so a venue that is happy for you to prepare the tables could be necessary. If you have a fully DIY site for the reception think about borrowing some furniture in keeping – an idea suggested in the Bohemian piece, maybe renting from a second-hand store for the day.
One potential problem area is the food. For your 1940s or 1950s themed wedding you won't want food that reflects rationing! And food is one area where British culture has certainly improved over the decades. So think more about the crockery and settings than going back to Coronation Chicken or Brown Windsor Soup. The cake is a different matter, however: get your chosen baker to show you some designs that fit the era you're aiming for.
Let your friends and family know about the planned style in your invites, or notes to accompany them, and you may get some joining in with the look, something that will gladden the heart of your photographer (this is probably not the occasion for a video). He or she will be able to show you beforehand some creative ways to showcase your images, and clever touches in the photography – why not some sepia pictures? Black and white is always striking, so a big confident b&w image to open your album or for your home is worth consideration.
So vintage is kind of what you make it. No wedding is easy to organise, and one with a strict-ish style palette could add another degree of difficulty (depending on how Bridezilla you become); but with a bit of humour and a relaxed attitude it could turn out simpler. In the end, as with any wedding, it maybe has to be down to you and what you want.