Gifts the bride and groom give
Published date: 27th May 2019 | Author: Hollie Bond
---
Weddings cost money, time and disruption for many of those participating and attending, not just for you and your parents. Gifts for some of those people can be a gesture of thanks for their efforts, but who, what, when and how?
Views vary on the etiquette of gift giving by the bride and groom, which means you have to put some thought into it yourself. We hope this brief look at the question helps you arrive at your own conclusions.
One big pointer: if anyone says they're only taking part if they get a gift, politely drop them, as friendship is not bought.
In Britain a small memento is traditional for certain participants, namely the best man, maids of honour and bridesmaids, flower girls and page boys.
Cupboards in millions of homes hold engraved tankards and hip-flasks, a boon to jewellers but not to the best man given them. More useful could simply be the shirt and tie worn on the day, saving the BM money, though if it is fully formal frequent re-use is less likely. How about a fancy pair of braces, or a really good leather belt? Or that classic standby a pair of silver cufflinks or tie-pin?
Maids of honour and bridesmaids tend to receive small items of jewellery, often but not always intended to be worn on the big day – so perhaps a pair of ear-rings or a slender silver necklace. They receive a gift, your wedding party gets a coherent look.
The same can apply to flower girls, but children love things they can play with, so why not buy her a doll, or a colouring book and pens? It's kind, inexpensive, and may help keep her quiet later on!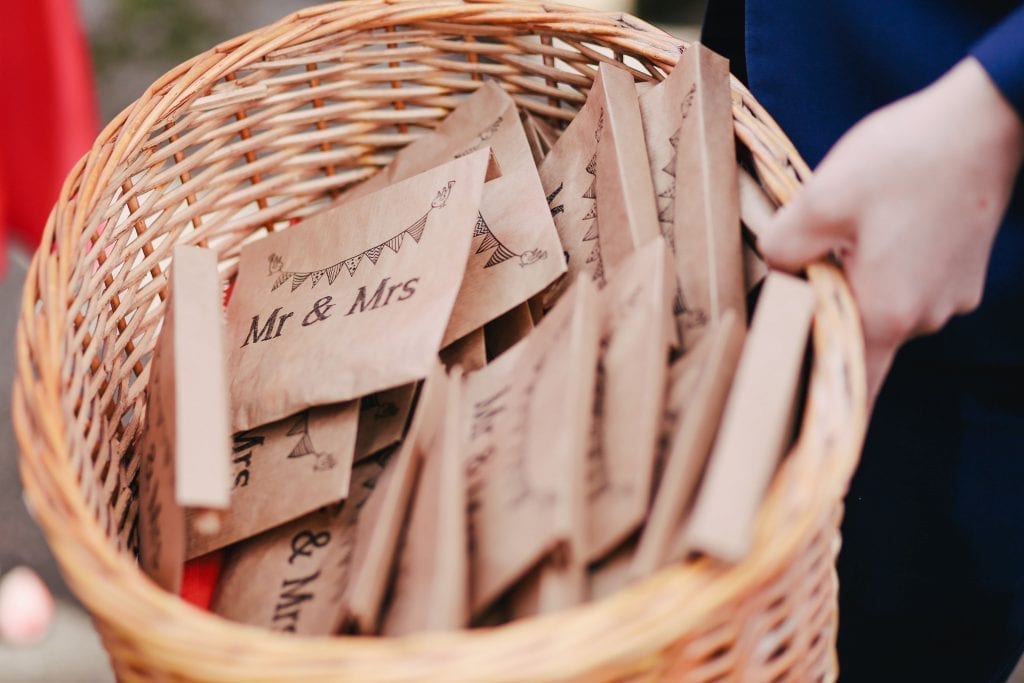 Similarly the page-boy. For the indignity of dressing in velvet and satin he deserves a toy. A word to the wise, give this and the flower-girl's toy after the ceremony – it can help if the gift is mentioned as subject to good behaviour.
Formerly the gift-giving used to be limited to those above, but as they've probably paid for the do, helped you through life, and supported you in all your preparations, a small token for both sets of parents seems due. Again, jewellery – ear-rings, bracelet, tie-pin, cufflinks – are a good option. But certainly for these in particular we'd advocate attaching a note or card expressing your love and thanks, it makes all the difference.
There are others you may wish to acknowledge with a gift. The officiant is being paid to do this, but if they've made a special effort to accommodate you, or bent rules, maybe a wrapped gift voucher is appropriate, or cash in an envelope. Not being paid are friends and family doing readings, or playing music for you. Again a little token will make them feel appreciated. Here you may want to use your imagination (but nothing insulting!).
When and where to give these gifts? Clearly if they are to be used in the ceremony people need them beforehand. If having a rehearsal and rehearsal dinner then they provide opportunities for a quiet word of thanks and the handing over of the presents. Alternatively hand them over wherever the parties are dressing, or even at the reception if you prefer – though that is a very busy time already. As we suggest above, the toys for younger kids can be an effective guarantee of good conduct, so they are best given at the reception.
The 'how' is personal. There's dignity in the one-to-one chat in a calm corner, but if you want to make a special fuss of someone who has gone the extra several miles then consider doing that in public – but remember others could feel slighted by not getting the same treatment.
Lastly gifts given between the bride and groom. Many would say that as you are pledging lifelong love a gift is irrelevant. If you want to give a gift, however, make sure your intended is not caught out and embarrassed by not having something for you – marriage is after all about exchange and sharing.