8 fabulous wedding table plan ideas
Published date: 23rd January 2020 | Author: Kacey Bradley
---
Once you've tied the knot (congrats, btw!), one of the first things your guests will see at the reception is the table plan. There are SO many amazing ideas for this vital piece of wedding day décor – whether you're celebrating in a grand stately home, a Boho tipi or rustic barn, we have some fantastic wedding table plan ideas for you.
Flower power
Plants and flowers make an appearance at all weddings, whether it's your bouquet, the aisle decorations or the table centrepieces – so choosing a nature-infused table plan will surely suit all weddings.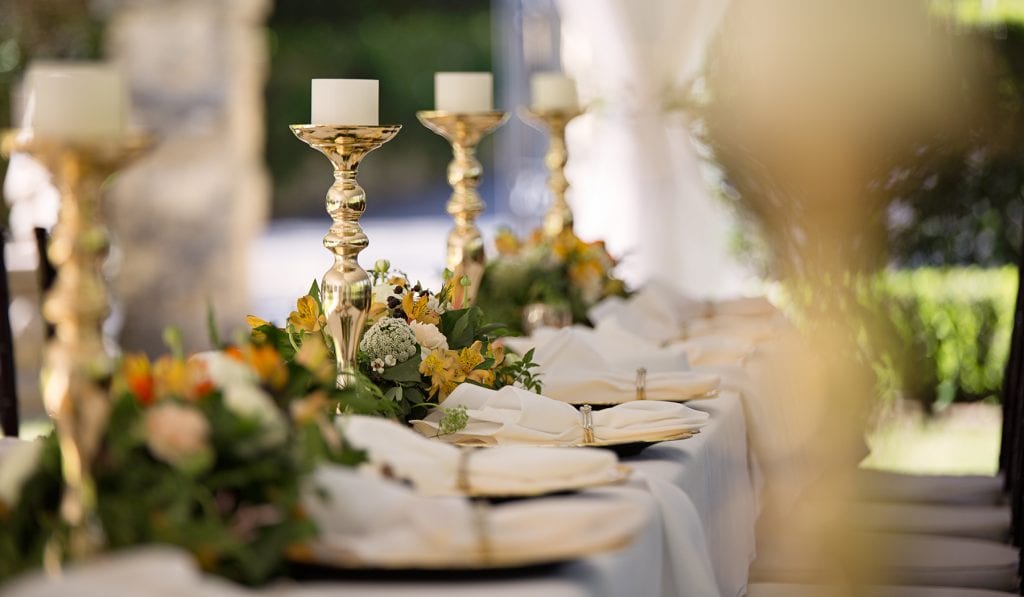 How to get the look: It can be done in a range of ways. You can have crates, filled with flowers, with the table number and your guests' names displayed upon cards, perched on sticks, planted into them. Or you could have each table represented as a different plant pot – both are super simple and really effective (and if you're DIY kinda gal, these can be done pretty easily).
But, if you're wanting to be extra AF – because let's be honest, it is your day after all, why not have a display created inside a wheelbarrow? This is more rustic than the other two, so would be perfect for an outside themed wedding.
Climb the ladder
You've may have found loads of props to use to decorate your wedding function room with, but don't forget about the trusty ladder. It's not just great for getting the Christmas tree in and out of the loft, it could also be used for a wedding table plan (stay with us here).
Picture this: A rustic wooden ladder – not the metal one your window cleaner uses – painted in a colour that matches your wedding colour scheme (we love white, ivory or shades of cream because it goes with everything, obvs). You can then, either pin your table cards to the side of the ladder starting with the top table at the top moving your way down, or you can use the steps of the ladder like a shelf and place objects which fit the theme of your wedding. You could have different bottles with each table as a different label or photo frames framing the tables – there are so many possibilities with this option.
Magic mirror
If you're wanting to add a touch of glam to your wedding, a mirror is a fab option for your table plan. It's also super simple to make: depending on how many tables you have, choose a mirror of a good size. A full-length ornate mirror is what we'd go for. Get your Sharpies out and write your plan directly on the mirror.
Don't forget: Mirrors are heavy so, before grabbing one you love straight away, if it doesn't have a stand, check that the venue has something solid for you to lean it against; you don't want it to take a tumble (seven years' bad luck for all you suspicious folk).
Pack your suitcase
Using a suitcase is a super cute idea – especially if you were a couple who committed to long distance for a while. This is a nice way to pay homage to you packing a bag every week to travel across the country to see one another (the things we do for love, aye).
What you need: Just four things actually. Head to your local charity shops and try to dig out a vintage suitcase (think brown leather with metal clasps or buckles). Have it displayed open with some string attached, so it's hanging from corner to corner, then use little wooden pegs to attach your table information neatly printed on some crisp, clean card. This look gets a 10/10 from us (11/10 if it comes with a love story!)
Map it out
If you're both travel-loving globetrotters, a map of the world is a unique wedding table plan idea. As well as being a fantastic décor piece for your wedding, you can also display it in your home and keep it as a memory from the day.
What to do: Get a map you love. This may sound strange; it's just a map. But there are, surprisingly, quite a few to choose from: do you want it to be coloured, vintage, or have a touch of metallic? Once you've chosen your map, pin some of the fave destinations you've visited together and attach some string with a tag added, featuring the guests' names (bonus: also have your table names as the destinations) – have the map framed and displayed on an easel.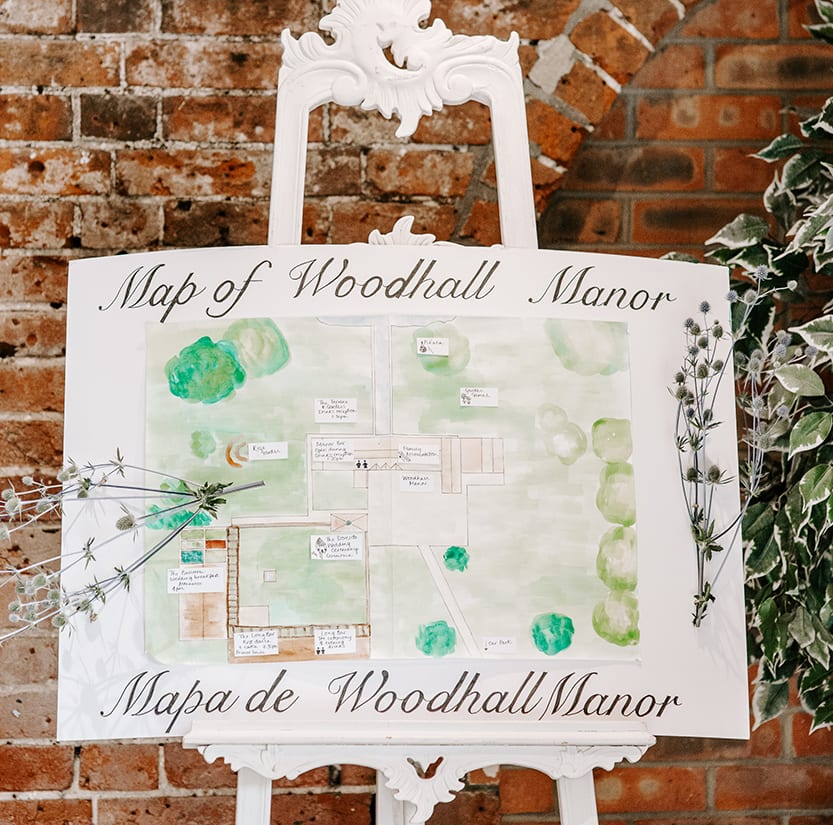 Picture perfect
Crack out the baby photos for THE most adorable wedding table plan you will ever see! Find a selection of the two of you through the years – from babies to adults.
What next? Take a childhood photo of the bride, for example, and use some creative tape to secure each corner to a board (you can also use pegs on string, frames or pins). You can name the table 'Aged 6' – match the picture on the table centrepiece for extra cuteness.
Luggage tags
Using luggage tags is really simple, yet super effective. These can be used with some of the props we've previously mentioned (like the suitcase and map), but you can use these as a standalone plan.
Want it? Use an ornate frame but with the back removed. Attach some string from one side to the other and tie the luggage tag with all the of the table details on them to the string. Quick, easy and affordable – what more do you want?
Crystal (acrylic) clear
Having a clear perspex acrylic wedding table plan is such a sleek option. Paired with some sharp well-written calligraphy will make for a classic showstopper.
What you need to know: You can try to tackle this one yourself, however, there are some fantastic designs in a range of styles and colours online for reasonable prices.
Planning a wedding is so exciting, but we know it can bring a lot of stress along the way. For Better, For Worse is here to help with a range of suppliers to make your special day one to remember.